Natalie Ogonek - this years Recipient of World Heritage Scholarship
---
The Culture and Competence Board at Region Gävleborg has decided that the World Heritage Scholarship 2023 will go to the dancer Natalie Ogonek from Canada with her project  "Dancing Through History: A Celebration of Human Connections".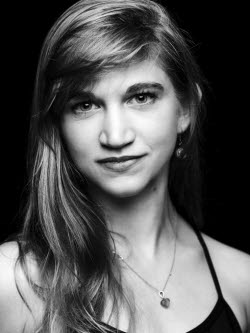 Motivation:
The World Heritage site Decorated Farmhouses of Hälsingland consists seven timbered farms built for celebration. The embellished banquet halls, the large houses of festivities, are completely unique. The big celebrations of life were held here in stately feasts with music, food and dance which lasted for days, sometimes a whole week.
The Royal Swedish Ballet is one of the oldest ballet companies in the world, and owes its existence and rich tradition to Gustav III and the palace theatre of Drottningholm. Louis XIV of France was a passionate dancer. During his reign, the dance form which would later become ballet blossomed. The interweaving of folk dance and court dance is part of the history of this art form and the social history of the nation and the world.
30 miles north of Drottningholm, in Hälsingland, the court dance did not differ much from the folk dances which were danced at festivities of the Decorated Farmhouses of Hälsingland; weddings and holidays.
"Dancing Through History: A Celebration of Human Connections" is an artistic dance project which explores the connections between Swedish folk dance as it is practised in Hälsingland, court dance at the World Heritage site Drottningholm and modern ballet, whose roots can be traced back to the World Heritage site Versailles in France. Through the project, this year's World Heritage scholarship recipient intends to explore and make available these rich dance traditions and show how they can intertwine, where dance is a tool creating compassion, connection and trust between people.
Natalie Ogonek is a Canadian dancer and choreographer. She is schooled at the National Ballet School in Canada and has worked at the National Ballet of Canada, Hamburg Ballet, Hong Kong Ballet and most recently at the Royal Swedish Ballet. She is awarded Region Gävleborg's World Heritage Scholarship/Residence 2023 to further investigate and celebrate the connection between folk dance, court dance and ballet at three World Heritage sites; the Palace and Park of Versailles, the Royal Domain of Drottningholm och the Decorated Farmhouses of Hälsingland.