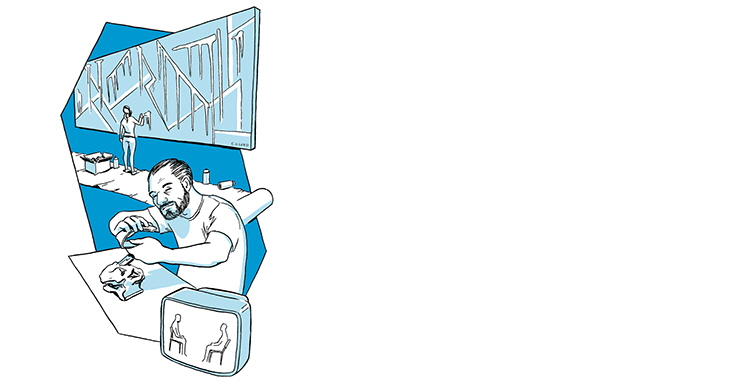 The assignment within art aims to strengthen, promote and develop a vibrant and sustainable art world in Gävleborg. Working with art involves a close and attentive collaboration with the county's actors. The assignment includes providing necessary and complementary tools in the form of ongoing education, meeting places or technical equipment. These can include education, network meetings or various support that enables the exchange of experience for artists, art teachers, associations or culture officials.
The work covers everything from social and integrative art projects and a visualisation of art as a social and critical reflection, to art as a starting point for learning.
Through art education, temporary and mobile exhibitions, workshops and lectures, the assignment within art also cooperates with the team behind the art collection work within Region Gävleborg. Among other things, this is in the form of integrating art, exhibition technology and artistic processes and support for the county's organisers and professional cultural creators. In this context, work with art disseminates knowledge about MU agreements (the Swedish national framework agreement for artists' compensation for preparing and participating in exhibitions).
Region Gävleborg's art collection activities have the task of managing, producing and bringing the art collection to life. Region Gävleborg aims to work according to the so-called one percentage rule, where 1 percent of the building budgets are used for producing public art. The purpose is to contribute to a stimulating and humanistic environment within Region Gävleborg's various departments.
Cultural actors with a regional assignment in the field of arts and crafts can take the development areas of the Regional Culture Plan into account by:
creating meeting places for the county's actors for sharing experience, skill-promotion efforts and collaboration
strengthening the conditions of pro­fessional culture creators and create better conditions for their work
expanding collaboration between organisational development within art and handicraft, as well as actors working with art and craft collections in the county
working to develop and disseminate art and craftsmanship in new contexts and environments
identifying opportunities and conditions for putting arts and crafts in an international perspective through artistic exchanges and artistic residences in the county
improving opportunities for children and young people to be creative